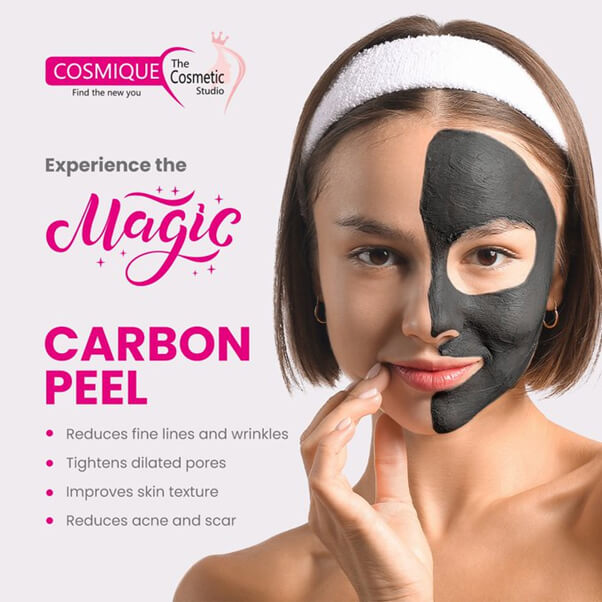 Carbon Peel treatment has emerged as a highly advanced skin care procedure in Kochi, India. This non-surgical cosmetic treatment is famous for its effectiveness in restoring and revitalizing the skin, giving you a glowing and youthful appearance, especially for people interested in improving the texture of their skin and looks.
It comes as no surprise that the Carbon Peel treatment has earned its spot in the hearts of people in Kochi, giving locals and guests an alternative to achieving clear, brighter skin in less time than ever before. Since Cosmique is one of the best places for laser carbon peels in Kochi, its success speaks of the vision and the wherewithal to invest in top-notch cosmeceutical procedures right within Kerala itself.
For laser carbon peel treatment in Kochi, visit Dentique and get the best service. 
How Does it Help in Improving Your Skin?
The term Carbon Peel Therapy refers to both "black carbon peel" and the more common term, " Hollywood Peel." This cutting-edge skincare treatment provides an abundance of advantages when it comes to enhancing the condition and look of your skin. This non-surgical procedure is widely renowned for its efficacy and versatility all throughout the planet. Here's how Carbon Peel Therapy helps enhance your skin and the conditions for which it is commonly used:

1) Exfoliation and Deep Cleansing: Carbon peel is the process where our cosmetic surgeon places thin layers of medical-grade activated carbon onto your skin. This carbon goes all the way down into the pores, adhering to oils, dirt, and dead skin cells. When the carbon is removed using a laser, it takes the impurities as well. This treatment offers thorough exfoliation and cleansing for a fresh and revitalized complexion.
2) Improved Texture: Cosmique the best place for laser Carbon peels in Kochi can give you improved skin texture after the procedure. Carbon Peel provides excellent exfoliation, which leads to the smoothness of skin texture. This face scrub works on imperfections such as roughness, uneven texture, and bumps, giving you a smooth and velvety finish.
3) Acne and Acne Scars: Carbon peel is also very effective at combating acne and helping to reduce acne scarring. This treatment targets specific types of bacteria involved in acne and reduces oily skin, resulting in less severe outbreaks. In addition, it boosts collagen production, which improves acne scar recovery over time.
4) Shrinking Pores: Large pores are an issue more often for people who have oily skin. A carbon peel skin treatment can significantly reduce pore size by deep cleaning and tightening the skin to make it appear smaller.
5) Skin Brightening: Brighteners made out of carbon from the treatment. The aftermath will reveal brighter skin.
6) Fine Lines and Wrinkles: By promoting collagen fibre formation, which plays an important role in maintaining skin elasticity, Carbon Peel helps to reduce the visibility of fine lines and wrinkles. Over time, this can promote a more youthful and voluptuous look.
7) Minimal Downtime: Compared to various skincare procedures, Carbon Peel Therapy has the least recovery time required for healing. Patients can usually return to normal activities right away afterwards.
8) Suitable for Most Skin Types: Carbon Peel skin treatment is usually considered safer and more suitable for all skin types, including sensitive skin. But always consult a skin care doctor, first of all the treatment suits you or not.
9) Long-Lasting Results: Some visible improvements could start to manifest immediately, but repeated sessions make the outcomes more substantial and long-term. These maintenance sessions can help maintain long-term gains.
How Does it Work?
Application of Carbon Paste: A thin layer of medical-grade activated carbon adheres to washed skin. Carbon paste also removes toxins, oils, and dead skin cells from the skin's surface and pores.
Absorption: The charcoal paste is left on the skin to sink in and stick to the dirt or other impurities within the pores.
Laser Energy: A highly specialized laser focuses on the carbon particles. Laser energy heats up and vaporizes the carbon, plus impurities for skin exfoliation and unclogging pores.
Stimulating Collagen: Additionally, the laser boosts collagen production below the skin. Collagen — important for skin firmness and elasticity; it helps with reducing the signs of fine lines and wrinkles.
Skin Rejuvenation: This process encourages exfoliation and collagen induction to leave you with softer, more even-toned skin, enhanced texture, decreased pore size, and a youthful complexion.
Why Choose Cosmique for a Laser Carbon Peel Treatment in Kochi?
Cosmique, the foremost centre of excellence in laser carbon peel in Kochi, leverages a team of highly experienced dermatologists, the most advanced technology of its kind, and uncompromising dedication to achieving outstanding results. There are compelling reasons why you should choose Cosmique for your carbon peel treatment in Kochi:
Skilled Professionals: Cosmique employs an expert panel in cosmetology. Our specialists possess expertise in Carbon Peel treatments tailored according to your skin type and needs.
State-of-the-Art Equipment: We invest in the most advanced laser technology and medical machinery for the safety and efficiency of our procedure. Our advanced laser technology offers quick, painless, and less invasive treatments.
Personalized Care: We offer personal care at Cosmique before and after carbon skin laser treatment. Before any treatment, you will have a complimentary consultation to determine your skin's needs and create a customized treatment plan. Customer comfort and enjoyment are what matters most to us here at Erotic Dreamland!
Proven Results: Cosmique offers carbon peel treatments in Kochi with proven results in our portfolio. Numerous delighted patients already know firsthand Carbon Peel's rejuvenating powers, ranging from smoothing out fine lines to diminishing acne scars, resulting in an overall natural glowing, healthy appearance achieved at Cosmique.
Safety First: This is why we strictly follow all safety procedures in order to guarantee maximum safety and sterility of every Carbon Peel treatment. With us on board, you can always depend on us to guide you in the best possible way.
Convenient Location: The best feature of Cosmique is its strategic location at the heart of Kochi, thus easily reachable to people visiting or staying there.Selecting Cosmique as your provider for Laser Carbon Peel Treatment places value on quality, safety, and individual care. Our commitment ensures that you get the lustrous skin that you desire, setting us apart as one of the most reliable names in the skincare industry in Kochi. Discover the Cosmique difference, and begin your journey towards clearer, brighter skin.
For more enquiries about laser carbon treatment in Kochi, contact us.