Skin tags, moles and warts are growths that appear on the skin. These non-cancerous growths can be removed through advanced medical procedures. Cosmique offers a safe and painless approach with our advanced laser treatment for birthmarks, warts & skin tags treatment . And pursue globally accepted processes using state-of-the-art medical solutions.
Visit Cosmique for skin tag removal in Kochi.

Causes of Skin Tags, Moles and Warts

Skin tags, moles, and warts are elevated growths on the skin. The exact reason for the skin tag is not yet identified. Research indicates that more than one factor may lead to the occurrence of skin tags. The common causes of skin tags are:
 Hormonal imbalance in the body

Hereditary reasons

 Friction

Prediabetes as well as Diabetes Mellitus

Pregnancy
Warts, on the other hand, are extra cell growth due to viruses. The virus activity causes the outer layer of skin to become thick and hard. Warts can occur in any section of the skin. Warts are thick and hard spots that need to be removed, else they can spread to other parts of the body. Warts commonly appear on the back of the hand.
Moles are black or brown pigmented cells on the skin. Although moles are harmless, they can affect a person's appearance. At times, moles can become painful or itchy. Bleeding may also occur. Consulting a specialized dermatologist is necessary in such a condition.  Cosmique offers mole removal in Kochi for you. You can contact us for more details at any time.

Why it is Necessary to Seek Professional Help?

Trying self-treatment of skin tags, moles, and warts must be avoided at any cost. Never undergo treatment offered by unqualified persons acting as specialists. It can lead to unforeseen and unwanted consequences. For a detailed insight in this regard, you may talk to us. We have well-experienced hands for skin tag treatment in Kochi at Cosmique.
There have been incidents wherein individuals tried unproven treatments, which caused severe after-effects, such as permanent marks and other issues on the skin. Seeking professional help would help you get rid of the unwanted marks, skin tags, warts, and moles from the body effectively. Further, getting professional treatment for skin tag removal will cause no side effects to your skin. At Cosmique, we offer the best skin tag treatment in Kochi to remove your tags without any complications. 


Treatment for Removal of Birth Marks/ Mole/ Skin Tag

Multiple treatment processes are available for birthmarks, moles, warts, and skin tags, with the invention of equipment and medical facilities integrated with cutting-edge technology. The treatment is painless and effective. The marks are removed without even the minutest indication.
We suggest you avoid attempting the removal of these marks on your own or with the help of unqualified personnel. Specialists with knowledge and expertise in the field should be consulted for the treatment. You may consult the experts at Cosmique for skin tag mole removal. Our specialized dermatologist will examine the skin tag, mole, or wart and undertake a specific treatment procedure.
Cosmique has been ahead of the curve in integrating advanced technical solutions for skin tags, moles, and warts. We have a specialized team for undertaking the treatments. Let us know if you are looking to get rid of unwanted skin tags, moles, and warts. And regain a healthy, glowing, and mark-free skin.
If you are searching for a birthmark removal in Kochi you can contact us without thinking twice.


What We Offer
Cosmique is one of the best places for skin tag treatment in Kochi. We have a panel of skin care specialists to serve you. They have years of experience and expertise in skin, face, body, and hair cosmetic treatment procedures. The advanced skin treatment processes we offer are:
Q-Switched NDYAG Laser

: This innovative treatment procedure may take 1 to 4 sessions to complete. The treatment program would be decided based on the condition of the moles, skin tags, or warts.

Electrocautery/ Radiofrequency Ablation

: The

RF or Electrocautery Ablation

process would be completed in 1 to 2 hours. Depending on the size of the mole or the area to be covered.
Why Choose Cosmique?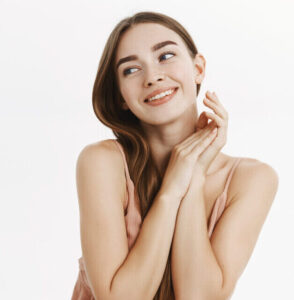 100% satisfaction is what we guarantee our clients with our advanced treatments. Every detail of the skin tag mole treatment is discussed with you during the initial appointment. The treatment procedure is decided after examining the severity of the issue and other relevant aspects.
Our specialities include:
Exclusive attention to each person to ensure the best result

All the advanced skin treatment processes available

Skin tag treatment is suggested based on the condition, as well as, the objective of the client

Exceptional efficacy

Expert professionals

Reliability
We gained credibility through proven skin treatment processes. Word-of-mouth publicity has been the key factor for our growth as the top cosmetic studio in the region.
Talk to us if you are looking for a skin tag, mole, birthmark, wart removal or any other specific skin, body, face, or hair treatments. We are at your service always.
For the safest procedure for skin tag removal in Kochi, Dial Cosmique now.