Hydra facial, a unique skin treatment offered at Cosmique, the cosmetic studio, is also known as "hydradermabrasion" due to its combination of exfoliation, similar to microdermabrasion, and serum infusion. This unique process combines acids such as Glycolic, Beta, Lactic, Salicylic, and Hyaluronic acid, making it as efficient as microdermabrasion but without the discomfort and inconvenience associated with the latter. With Cosmique, people can enjoy the benefits of Hydra Facial in Ernakulam without requiring lengthy recovery periods.
Our Hydra Facial treatment in Kochi provides a comprehensive and painless approach to skin rejuvenation, including a deep wash, hydration, and exfoliation in a non-surgical clinical facial. This innovative process efficiently treats a variety of skin issues, including hyperpigmentation, aging signs, wrinkles, fine lines, dark spots, crow's feet, clogged and enlarged pores, and sensitive or acne-prone skin. There is no downtime or discomfort, and the benefits are immediate.
How Does Hydra Facial Improve Your Skin?
Hydra facial treatment is outcomes-oriented and delivers numerous benefits for your skin. The Hydra Facial treatment usually consists of :
Cleaning: The procedure begins with a thorough washing of the skin to eliminate any dirt, makeup, or impurities. 
Exfoliation: This is followed by a mild exfoliation with a specialized HydraFacial tip or solution to remove dead skin cells and reveal a fresh layer of skin.
Extraction: A special Vortex Extraction nozzle is used in the treatment to gently remove blackheads, whiteheads, and other impurities from the pores without causing any discomfort.
Hydration: After the exfoliation and extraction, a combination of hydrating serums rich in antioxidants, peptides, and hyaluronic acid is infused into the skin. This nourishes and restores the skin, leaving it moisturized and plump.
Cosmique, being one of the top skin and hair clinics, offers the best hydrafacial in Kochi. Major benefits of Hydra facial include: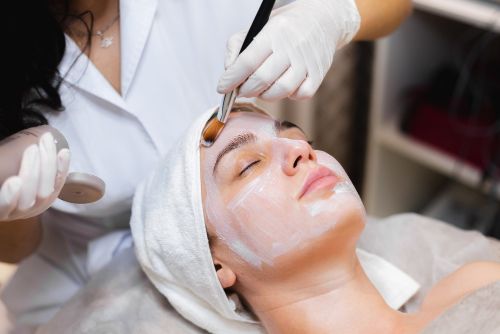 Improved skin texture and tone: The treatment can improve the overall texture and level out the skin tone by eliminating dead skin cells and boosting cell turnover.
Reduced aging signs:The serums' antioxidants and peptides can help combat free radicals and lessen the appearance of fine lines and wrinkles.
Radiant and glowing skin: Many people report an improvement in the radiance and general appearance of their skin after the treatment.
How Does it Work?
The Hydra facial treatment we provide in Kochi is a 60-minute treatment that deeply cleanses, exfoliates, extracts dirt, and hydrates the skin. It is divided into three sections:
Step 1: Cleanse and Exfoliate: The Hydra facial gently uncovers a fresh layer of skin during this initial stage with a combination of gentle exfoliation and soothing resurfacing. A serum is applied during the procedure, which effectively eliminates dead skin cells, revealing healthier, more vibrant skin. Furthermore, the Glysal solution, a Glycolic and Salicylic acid blend, gives the advantages of a peel without the typical post-peel scaling, making it a more comfortable experience.
Step 2: Extraction and Hydration: Cosmique offers one of the best Hydra facials in Ernakulam and uses a painless suction technique to collect dirt and impurities from the pores in the second step. This thorough extraction procedure aids in the unclogging and cleaning of pores, leaving the skin feeling rejuvenated and revitalized.
Step 3: Fuse + Protect: Finally, a combination of antioxidants and peptides is applied to the skin's surface. These powerful components work together to enhance and maximize the skin's natural radiance while also protecting it from environmental harm. This step also includes the use of customized skin remedies that target specific skin conditions such as hyperpigmentation, fine wrinkles, or acne.
The Hydra facial process is thorough and personalized, with quick and evident effects. It is suitable for various skin types and concerns, providing a painless and non-invasive alternative to traditional facial treatments. The combination of cleaning, exfoliating, extracting, and moisturizing results in luminous, youthful, and healthier skin, making it a popular choice for people searching for a radiant and refreshing skincare experience.
Why Choose Cosmique for Hydra Facial in Kochi?
Cosmique is the premier choice for Hydra Facials in Kochi due to its exceptional reputation, state-of-the-art facilities, and a team of highly skilled skincare professionals. As a leading skincare clinic in Kochi, Cosmique offers a personalized and comprehensive approach to skincare, ensuring clients get visible results.
Clients can benefit from the expertise of professional dermatologists and licensed skin care specialists at Cosmique, who have an in-depth knowledge of various skin types and challenges. Their extensive experience enables them to customize each Hydra Facial treatment to target individual skincare needs, such as deep cleansing, hydration, anti-aging, or addressing specific skin concerns. 
The clinic's commitment to using cutting-edge technology and modern Hydra Facial equipment ensures that clients have a relaxing and effective treatment. The Hydra Facial procedure is meticulously carried out, beginning with a thorough skin analysis to establish the best technique for optimal results.
The warm and welcoming ambiance of Cosmique creates a pleasant environment in which guests can unwind while receiving their Hydra Facial treatment. The warm and attentive demeanor of the team offers a great experience that puts clients at rest throughout the procedure. 
Cosmique maintains the highest levels of hygiene and adheres to tight guidelines with a focus on client happiness and safety. This commitment to perfection has gained them the trust and loyalty of many satisfied customers in Kochi.
Visit Cosmique for hydrafacial treatment in Kochi…