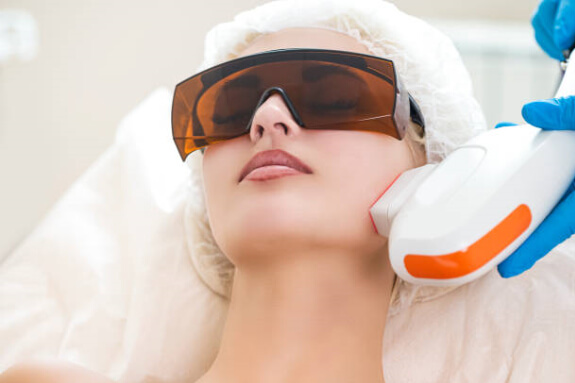 Laser Toning/ IPL (Intense Pulsed Light) therapy
IPL functions in a manner akin to laser toning therapy. IPL uses a variety of wavelengths of light energy, as opposed to laser therapy, which uses just one. This means that compared to laser therapy, IPL can cure a bigger area of skin faster. IPL therapy is regarded as a non-ablative resurfacing technique since it only affects the dermis, the lowermost layer of skin, without harming the epidermis (epidermis). The outcomes are less striking than with ablative resurfacing, where both the dermis and epidermis are damaged to give a considerably more pronounced overall result.
How IPL therapy works?
The region that is being treated will first be cleaned by your skin care specialist. They apply a cold gel to your skin next. A medical professional will then direct various light wavelengths onto the skin using a portable instrument. You will need to wear dark glasses to safeguard your eyes during your treatment. Your skin may sting during the process, but most individuals don't. The skin cells are broken down and heated by this light. The injured tissue is then spontaneously removed by the body. The energy output of the majority of IPL systems is refined by filters to treat specific areas. This improves penetration without requiring a lot of energy and makes it possible to target particular chromophores (these are skin components that absorb light).
Since everyone reacts to IPL differently, most patients require several sessions before beginning to see improvements.
People may choose IPL as a treatment for a range of skin issues. These include:
Acne Scars
Birthmarks
Rosacea – Redness of the Face
Hyperpigmentation – Age Spots and Freckles
Melisma – Brown or Gray-brown Skin Patches
Scars
Stretch Marks
Sun Damaged skin
Wrinkles