howMesotherapy, which means "medium treatment" in English, is a type of cosmetic care. It is a process similar to acupuncture where a needle is used on the middle layer of the skin. Mesotherapy is the term for the procedure of using needles to inject vitamins, minerals, enzymes, amino acids, and occasionally both separately and together, into the middle layer of the skin. Legally, anyone over the age of 18 who is in good health may get mesotherapy. However, some people have conditions that make mesotherapy ineffective or who have illnesses that preclude its use. Mesotherapy has a very broad range of uses and application areas. The content to be injected with a microinjection application depends on several variables, including the person's health situation, age, physical attributes, and necessity. Treatments are therefore customized. Read on to understand how mesotherapy rescues your skin.
How is Mesotherapy Done?
Gain a better understanding of how mesotherapy rescues your skin by knowing the procedure will help you. Depending on the patient's condition, doctors inject various medications. The ingredients could include liquids like herbal extracts, vitamins, minerals, enzymes like collagenase and hyaluronidase, hormones like calcitonin and thyroxine, and prescription drugs like antibiotics and vasodilators. A skin-numbing agent may or may not be applied by the clinician. A unique short needle will be used to provide a series of injections. Numerous injections can be given simultaneously using a machine gun. To get the desired outcomes from mesotherapy, you might need to have numerous sessions. You will first receive shots every 7 to 10 days. The intervals between sessions will gradually increase to two weeks and then a month after your skin begins to recover. Natural plant extracts, vitamins, or drugs like minoxidil and finasteride are injected into the skull to cure alopecia. It increases blood flow, feeds the hair with nutrition, and resolves hormonal imbalances in and around the hair follicle.
Who Can Undergo Mesotherapy?
Health screening is used to identify whether a person is suitable for mesotherapy based on the location to be treated and their current health state.
Benefits of Mesotherapy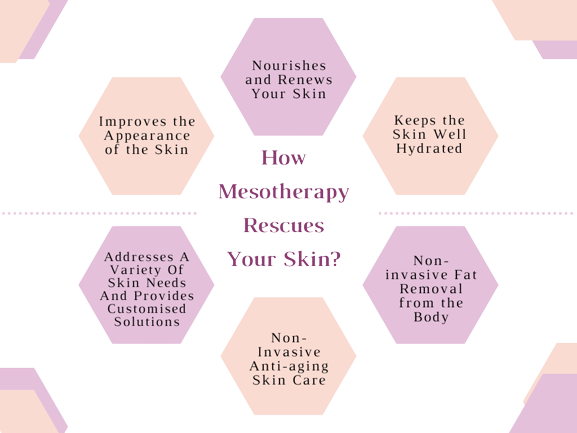 Mesotherapy can rapidly reduce superficial wrinkles and dull, tired-looking skin. It can also assist to enhance slow blood circulation, which helps the body get rid of toxins that cause aging. This procedure can also be used to cure acne, and hyperpigmentation, and give the skin a "lit-from-within" radiance.
If you don't want to have surgery and would like to use effective plant-based treatments to nourish your skin from the inside out, mesotherapy is a great alternative. A typical mesotherapy cocktail may contain several active ingredients to nourish, heal, and regenerate skin. Being one of the most popular aesthetic procedures, the treatment has many benefits. The following are a few advantages:
Improves the Appearance of the Skin
The secrets of how mesotherapy rescues your skin include improving its appearance. If you want your skin to glow more, especially on your face and neck, mesotherapy is a fantastic solution. The technique helps with age spots, discoloration, and patches depending on the ingredients utilized. This procedure lightens and evens out your skin tone while stimulating the production of elastin and collagen to replenish facial suppleness.
Nourishes and Renews Your Skin
Your skin will feel renewed and invigorated because of the substantial amount of serums, vitamins, and other nourishing combinations of strong components. Mesotherapy, when performed properly, makes sure that the ingredients are adequately administered to your skin.
Keeps the Skin Well Hydrated
A skin-tightening effect from mesotherapy can also boost the moisture content of the skin, giving your face a younger, more rejuvenated appearance.
Addresses a Variety of Skin Needs
Whether you're looking for an anti-aging solution or want to brighten the complexion of your face and neck, you get customized nutrients for your skin. After the treatment, there are noticeable improvements and the skin obtains an energy boost.
No Need for Invasive Surgeries
Mesotherapy can be coupled with your anti-aging skincare routine and is significantly less invasive than other cosmetic surgery procedures. You can have healthy, natural-looking skin without having to have surgery.
Among the major aspects of how mesotherapy rescues your skin, this advanced procedure involves removing fat in certain locations of the body. It is a non-invasive process that makes it easier to eliminate the fat cells in the area by breaking them down with a series of injections. These toxins can then be eliminated from the body via the urine system. For those who are nursing or expecting a child, this treatment is not advised. To get the desired results and contour the body, mesotherapy is a reliable and secure fat-removal procedure.
Conclusion
Mesotherapy is a non-invasive cosmetic treatment that can be applied to the face and body to address problems including stretch marks, extra fat, face and neck rejuvenation, and body contouring, to name a few. It functions by injecting the skin repeatedly with a variety of essential vitamins, minerals, and medications. Since mesotherapy targets skin layers that other non-invasive treatments can't reach, it is an incredibly effective aesthetic medicine procedure. Always remember to get a doctor's recommendation before mesotherapy (or any other cosmetic surgery procedures). Experience how mesotherapy rescues your skin and see the better version of yourself.